Free Checklist: 
Post-Covid-19 Business Recovery Plan
NOW is the time to start your recovery planning. Get a comprehensive checklist for your business to recover and get ahead.
Although key restrictions have been lifted in Ireland, the 'end' of all this still seems way off. It's worth remembering, however, that things will eventually return to normal.
It will take further time to conquer the virus and begin re-establishing the patterns of life, and we will likely have to endure a bit more suffering before normality returns, but it will happen. The question now is, what sort of normality awaits us?
Things will be different, that's the first thing to note. The world has been plunged headlong into a frightening era of austerity and that is going to leave a permanent mark. The question 'What if it happens again?' will remain at the back of everyone's mind which will change the way people think, shop, spend, travel and live generally. 
We have developed a comprehensive checklist for your business recovery plan.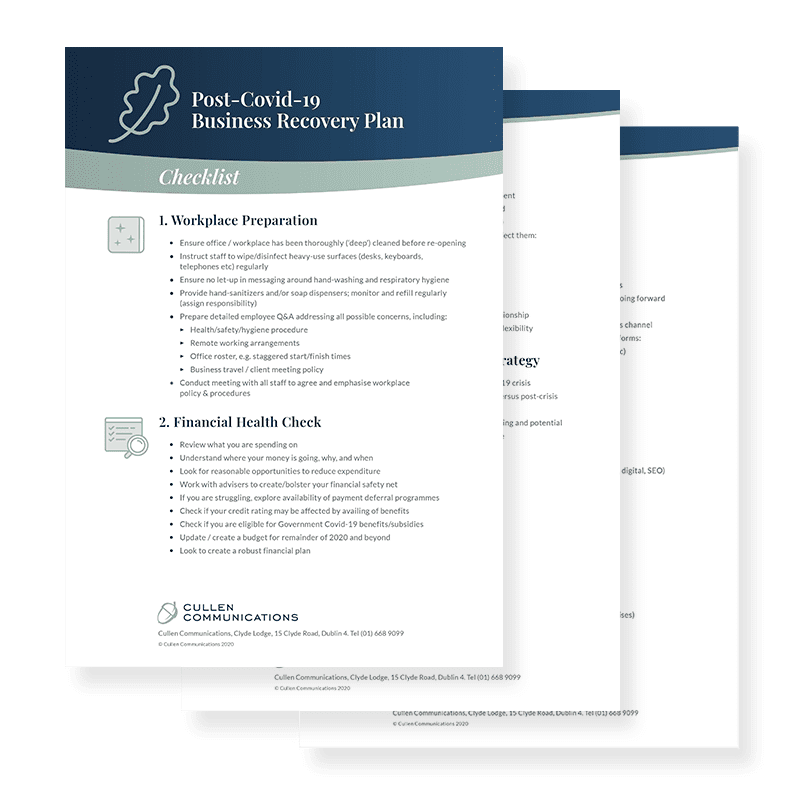 This guide will include advices on:
Workplace Preparation
Financial Health Check
Client Audit
New Sales and Marketing Strategy
Communications Roadmap
Long-Term Investment Planning