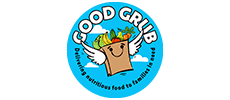 The Good Grub initiative: feeding families in need
The Good Grub initiative helping families of DEIS schoolkids in disadvantaged communities around Ireland has raised more than €650K to deliver food to families in need – but the pandemic is not yet over.
'Good Grub' is a not-for-profit established during the first wave of COVID-19 that set out to deliver fresh food to the families of disadvantaged schoolkids who normally got their breakfast and lunch at school. As part of our agency's 'Be the Good' initiative, we volunteered to work with Good Grub on a pro-bono basis, providing PR support to generate media coverage and help reach the initial target of €100K to deliver food for as long as possible.
We developed a PR strategy focussed on media and community relations, influencer outreach and digital support. The strategy included developing clear messages to achieve cut-through during an extremely busy news agenda. We issued a national launch release and followed up with successive milestone releases – first target reached, second target set, appeal going nationwide, etc. We engaged extensively with influencers to help spread the word and worked continuously on media outreach to secure broadcast interviews with the Good Grub team.
In total, Good Grub has distributed 125,000+ fresh food packs to the families of disadvantaged children around Ireland. Good Grub still needs your help! You can make a donation, however small, to Good Grub here. 
Media Relations
Secured numerous high-quality pieces of coverage (The Irish Times, Irish Independent, Irish Examiner, TheJournal.ie). Live radio interviews with Denis O'Reilly on mainstream news channels.
Content Creation
Created high-quality, colourful imagery to bring the story to life. Organised event photography for media releases.
Influencer Engagement
High-profile ambassadors including the Happy Pear brothers (800K+ followers) and Ross Lewis (head chef of Chapter One, Ireland's leading Michelin-starred restaurant). Social mentions by celebrities (rugby legend Brian O'Driscoll, national food critics Katy McGuinness and Catherine Fulvio, actor/film-maker John Connors)
Total media reach 23 million
125,000 food packs delivered, representing over 1 million meals
Exceeded initial €100,000 target in 4 days. Final fund-raising total: €664,720
Generated 50+ pieces of coverage (print, online, broadcast). Highlights included half-page editorial in Irish Times
In November 2021, Good Grub partnered with Tesco Ireland as part of their Stronger Starts programme that will ensure Good Grub has a sustainable funding model in the future